Operational efficiency is the capability of an
enterprise
to deliver products or services to its customers in the most cost-effective manner possible while still ensuring the high quality of its products, service and support.
Operational efficiency is often achieved by streamlining a company's core processes in order to more effectively respond to continually changing market forces in a cost-effective manner.
In order to attain operational efficiency a company needs to minimise redundancy and waste while leveraging the resources that contribute most to its success and utilising the best of its workforce, technology and business processes. The reduced internal costs that result from operational efficiency enable a company to achieve higher profit margins or be more successful in highly competitive markets.
Definition
Top 3 Tips for any Business
1/ Start by examining the cost of your 3-5 biggest spend items.
Operational efficiencies are obtained by reducing the cost of these items, however an important aspect to bear in mind when analysing these costs is the cost of seeking out and analysing these items. Many larger companies have procurement specialists to search these items, conduct tender processes and selection processes to contractual arrangements. the time involved in these procurement processes is rarely taken into account but should be. A buying group for your trade or industry should be able to deliver approximately equal or better pricing for a major business but without the hassle, time delay or costs of using your own procurement specialist. If the Industry group is acting on behalf of the industry then savings should be quickly and easily realised.
Example

CSCBG made savings of 1% for a major Not For Profit enterprise on a spend of approx $360,000pa.
Saving $3,600pa
A saving on the same product range to a much smaller organisation resulted in 23% saving on a spend of approx $2,400pa.
Saving $552pa
ACTION PLAN
At least once a month, starting this month, examine a major expense of your business to see if it can be done at the same or better quality for a lower cost. You may need to think outside the box.
2/ Eliminate 80% of your wastage by control in 1 key area of your operation.
The one key area of your business has the highest volume of product, labour and activity. Using a Just in Time (JIT) ordering system brings you just the right amount of correct product at the last possible convenient time to process it. Humans are prone to booking late, changing their mind, expecting you to know what they want without telling you, therefore you need a process that allows you, after booking deadline to your client, to collate and confirm full details in time to calculate requirements and place one order for all requirements with your supplier.
Example
Imagine that you are a food service business that has to prepare food for large numbers of people, the more accurate you are with your predictions of numbers of meals required the less will be your waste.
Buying food on an as needed basis, with only one order to a supplier (not multiple orders), to arrive just in time means that you can:-
order and cook correct quantities,
saving on:-
over stocking expense,
additional storage costs,
extra cooking costs (product, power, cleaning, labour)
waste disposal cost.
Imagine if 80% of these costs were eliminated how much more efficient your organisation would be.
Once this process has been honed to a respectable level you can start to implement this in other significant areas of your business too.
ACTION PLAN
Reduce the number of people or teams responsible for a particular process, they will improve competency, timing and cost. They will increase their efficiency by both higher knowledge of the process and a sense of ownership.
3/ Take Time for Planning Your Time
It recently came to my attention that a major business had not replaced their procurement person when they left and that the job had fallen to someone else who had a major project on their hands. CSCBG were able to present them a savings of approximately 20% an area of spending in that business (approx $400,000pa) The new incumbent to the responsibility replied that they were too busy to look at it until after the current project was finished.
This draws to attention that we are sometimes so busy with the work that we forget to take a little time to examine the whole job. By taking a little time to regularly overview the whole job you might be able to save yourself considerable time, expense and frustration.
Example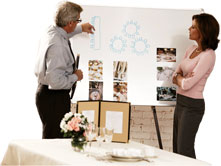 In the above case, an hour or two to examine the proposal, if it proved to be correct, would save approx $80,000 a year and they would be able to hire another key employee to assist with the major project, thus reducing the time to completion (a cost saving in itself) plus save an awful lot of stress (a major cause of absenteeism & staff turnover, two more major business costs).
ACTION PLAN
In his classic book, "Too Busy Not to Pray" Bill Hybels helps you slow down, listen to God, and learn how to respond. How to hear the Spirit's promptings in your daily life.
In the same way, take a little time each month to look at your work life and see if you could do it better, cheaper or more efficiently. Don't say, "that's a great idea, I must do that, just as soon as I ....."
That is the reason you need to do it now. Mark your diary now with a planning/thinking time preferably tomorrow morning.
Howard Sands is the Business Development
Manager for CSC Buying Group. He has a
wealth of experience in marketing, publishing,
printing and finance in the small business area
as well as Christian ministry. He is passionate
about helping Christian ministries be more
effective. He has a B.Bus (Management &
Marketing), an Advanced Diploma in Ministry
and is a practising ordained minister.